Madeira is a Portuguese island in the Atlantic approx. 720 km off the Moroccan coast.
It's very popular with hikers, nature lovers and last but not least pensioners, who have the luxury of being able to flee harsh German winters for extended periods. One lesser known fact about Madeira, however, is that it's also a beautiful diving location.
This summer I travelled there for a very special adventure, after talking to Stefan and Sittika from "Manta Diving Madeira" piqued my interest at the Boot trade fair in Düsseldorf:
Freediving with Nik Linder!
The new "Galomar" Hotel in Madeira, which is situated right next to the beach and Manta Diving Madeira Dive Center, opened in July 2018. I couldn't believe my eyes when I arrived. The old hotel - which had definitely seen better days – was gone and the spectacular new one had been completed and opened its doors a few days later.
Unfortunately I arrived too early to make a booking, choosing instead to rent a room next door at the "Galosol" hotel. I nonetheless managed to tour the new premises and inspect the rooms for you. This new hotel (Adults only, Eco+++) is so breathtaking that I decided to shoot a video instead of boring you with a long-winded review. Just one more thing: I've rarely seen a hotel with such a perfect ecologically sustainable design. Spending your holiday here will definitely help you make a positive impact on the environment.
Just a walk down to the ocean and an elevator ride to the bottom there is another swimming pool, embedded in the cliff. The Manta Diving Madeira is located next to that on the right.
This dive centre is the only one on Madeira located in a national marine reserve. And German dive magazine Tauchen has bestowed it with the TauchenAward no less than eight times.
The house reef has 4 different entrances and is 35m at its deepest point. Whether it's manta rays, moray eels, shoals of sardines, octopus, parrot fish, triggerfish or sea bass you're looking for: The reef is teeming with marine wildlife. In some places visibility is up to 30m. Litter was non-existent, both underwater and on land. Madeira's inhabitants keep their island clean, as evidenced on every street corner.
Another big highlight is Madeira's water temperature. At an average of 22 degrees Celsius without thermoclines, a 5mm wetsuit is absolutely sufficient (but to be fair I hardly ever feel the cold).
The one thing that makes this dive centre unique is that it specializes in freediving. Stefan and Sittika are more than dedicated to introducing this sport to underwater enthusiasts.
This summer they were supported by Nik Linder, who lives and breathes this sport, has written several books on the subject and bagged the odd world champion title. And this was specifically what brought me there this summer.
Madeira is one of the most diverse islands I've ever visited. Be it hiking (with a guide or on your own), bike tours, whale watching, swimming with wild dolphins, exploring the island by car, sightseeing tours to the capital Funchal (several buses arrive/depart daily), botanical or culinary trips across the island: Madeira has something for everyone.
I also had the great pleasure of meeting a really nice blogger during my stay: Annette from www.omvej.de. We knew each other from Instagram and luck would have it that we were in the same place at the same time, however for different reasons.
I spent 6 of my 9 days freediving only, while Annette had more time to explore the island and scuba dive. She has penned her own travel report (two actually) on her website:
Let her inspire you and check out her wonderful pictures (both underwater and on land).
And if that isn't enough, you can follow her on Instagram, because she likes to travel: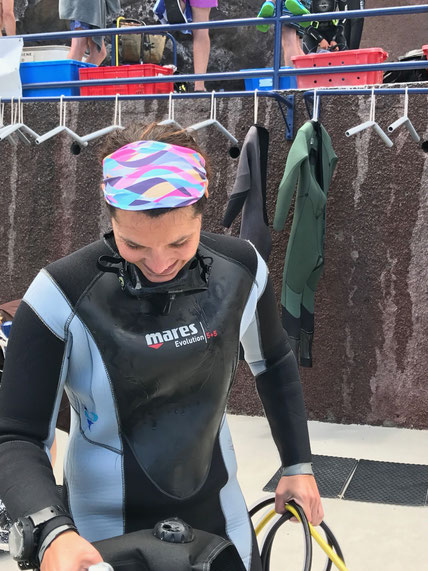 My hotel breakfast was truly a highlight (even though you shouldn't go overboard with big, hard-to-digest meals when freediving, something I found hard with all the choices).
In the evenings I was out and about sampling food from across the island just for you guys. Here are some impressions:
Madeira is a great address for a holiday "inyour backyard" - for divers and everyone who enjoys outdoors activities orsimply wants to soak up the sun.
I was really impressed and also delighted with Madeira'smarine environment: rock, stones, clear water and the odd tropical native fishspecies.
In only a few dives I gained a wide variety ofimpressions without seeing a fraction of what I wanted to see. You could easilyspend a week exploring the house reef without ever having to travel furtherafield with a boat.
Freediving conditions are simply perfect here.Training takes place in the swimming pool and the protected bay of the marinenature reserve - literally on your doorstep. And that's why Nik Linder will behosting another freediving camp here next year. Anyone who is interested intrying their hand at this sport couldn't find a better place to start.
Madeira has made me realise that it's reallyworth giving European waters a try. It doesn't always have to be Egypt or thetropics, Europe has some nice spots, too. Spend some time underwater and youcan also have fascinating encounters here. Of course you have to pack some warmergear, but it's definitely worth it.
Madeira is also easier on your purse. My vacation in late June/early August was one of the cheaper ones. If you book early and get a good bargain on a flight you won't regret it. But sun seekerscan also get lucky off season.
10 days was much too short. And there is so much mor to do: My entire time was devoted to freediving training,which means I definitely will be going back!
You guys are serious competition formy beloved Egypt and I really look forward to my next visit and seeing you at the Boot Show Düsseldorf!
Address:
Manta Diving (Galo Resort Hotels)
Rua Robert Baden Powell
9125 036 Canico De Baixo
Portugal
Phone:
00351 - 291 - 93 55 88
E-mail:
Opening:
Monday through Saturday: 09:00 Uhr bis 17:00 Uhr
Closed on Sunday
Saison: 01.03. through 06.01.