Carpe Diem Maldives' diving safari video on its Youtube channel is enough to send any passionate diver into raptures and maybe even book a trip with Agnes van Linden and her Crew. In less than 11 minutes it took to watch, the impressive aerial and underwater footage as well as the many smiling crew members, who love live and breathe their Job, had fully convinced me to book my ticket on Carpe Diem.
Built in 2008, the 35 meter-Long Carpe Diem has a lower deck, main deck, upper deck and 115 m² sun deck. Its 8 Standard cabins, one suite and one deluxe cabin offer space for 20 passengers. Meals are served on the upper deck.
The main deck houses a salon equipped with a self-service kitchen with tea and coffee making facilities as well as ample seating. This is where all of the pre-dive briefings are held. Carpe Diem is accompanied around the clock by a "dive dhoni" that holds the diving Equipment and is used to take guests to the diving spots.
I slept in the lower-deck cabin "Ski". Single travellers - as is customary on safari boats - are lumped together with guests of the same sex. I lost quite a bit of sleep over what my future roommate would be like, as I would be sharing a bedroom and bathroom with a complete stranger. I'm sure everyone travelling alone goes through this, but in my case I needn't have worried. We conferred and agreed on everything and enjoyed a truly harmonious and exciting week.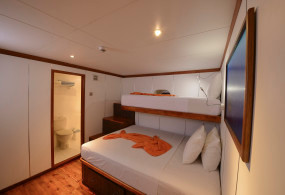 North Malé – Rasdhoo – North Malé – North Ari Atoll – South Ari Atoll – Vavuu Atoll (18 dives)
Our group comprised 19 people from 6 different nations, and a total of 13 crew members catered to our every wish - day and night. Whether it was special dietary requirements or requests, a minor issue with the room, a dirt t-shirt, help with putting together or donning the diving gear: Every single member of the crew really takes care of your every need.
The guests were divided into three diving groups, each led by a local dive guide. If the guides said we would be catching a glimpse of mantas, napoleon lipfish, whale shark or other sharks, you could absolutely rest assured you would. These guys know the waters like the back of their hand, and we were all exceptionally lucky to be able to spot so many incredible animals.
During our week we were offered a total of 18 dives. All of the reefs I visited were intact and healthy and by far exceeded my expectations. Researching the trip online, I was expecting that the massive impact of both the diving industry and the odd natural disaster would have left many reefs destroyed and the seabed littered with rubbish. I was wrong.
Currents on the Maldives are not to be underestimated. During my third dive I bought a reef hook from the guide which I kept on me from then on. Diving without cost me a lot of strength and air. The reef hook simplifies underwater filming and makes you feel like you're flying. Incidentally, the guides are very careful where reef hooks are placed so as to prevent destroying or damaging corals.
Lots of current, no worries: The check dive and night dives are carried out where there is Little or no current. Safety always takes priority with this outfit.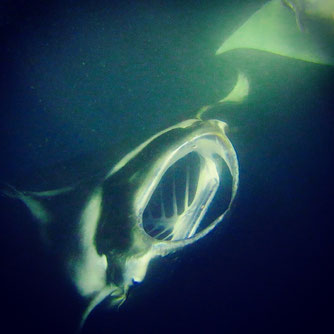 Carpe Diem scored extra points in my book for environmental protection. Each guest was issued their own drinking flasks at the beginning of the trip, which we were able to refill and which I still keep in my gym bag. This is a small but valuable contribution to reducing the mountains of waste on th Maldives.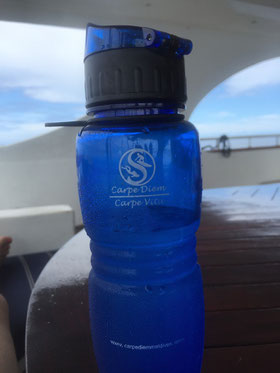 My Maldives diving Safari on board the Carpe Diem has been one of my all-time personal highlights so far. My expectations were more than exceeded both above and underwater. I felt more than at home on the boat, enjoyed every single day and every exceptional dive. I slept very well, enjoyed excellent Food and drink, many a laugh and left with a smile and a heavy heart, because it was all over too soon.
Dear Carpe Diem crew,
I would like to thank you for an unforgettable trip. Thanks to you I was able to cross a lot off my bucket list of must-see places and animals. We will meet again one day, I'm certain.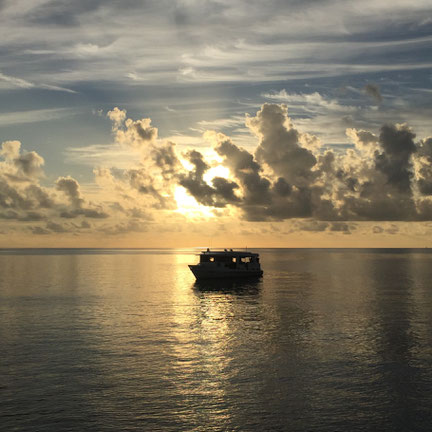 Tour Operator: WiroDive (www.wirodive.de) & Carpe Diem Maldives (www.mvcarpediem.com)
Flight: Emirates (30 kg luggage allowance & one hand luggage), flight time Frankfurt Germany: 11 hours
Journey time: 5 through 12 December 2015
Nitrox: available for a fee
Payment: Credit Card, US-Dollar and/or EUR
Language on board: English