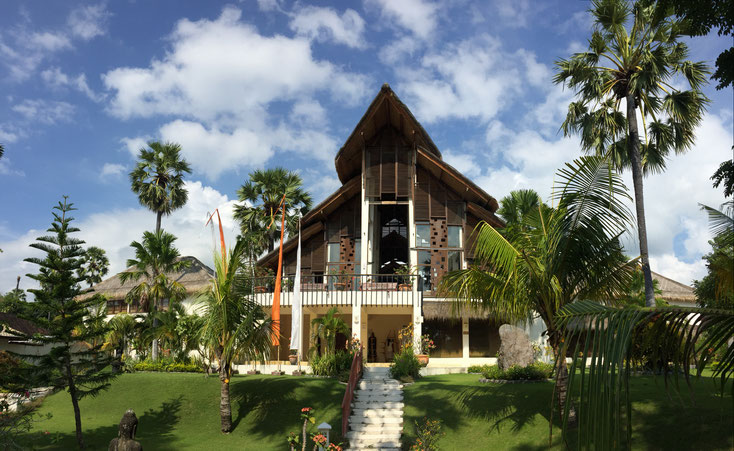 Before I go on vacation I like to really "scope out" a destination. It boosts my spirits and my expectations. This is where platforms such as Instagram or Youtube are indispensable. Simply type in a name or town and you're off: The latest photos and videos give you a first-hand, authentic glimpse at what the place actually looks like.
When I watched the most recent Youtube video from the Siddhartha Ocean Front Resort & Spa, I immediately knew I had made the right choice - again - and couldn't wait to board the flight:
The Siddhartha is located in the small village of Kubu on the Northeastern tip of Bali, with direct beach access. 30 bungalows and 3 villas are generously spread across an enormous garden, and surrounded by statues, fountains, deciduous and palm trees, bushes and flowers, with each square inch lovingly landscaped and taken care of. And from here - sunshine and a clear view permitting - you can catch a glimpse of the home of the gods: volcano Mount Agung: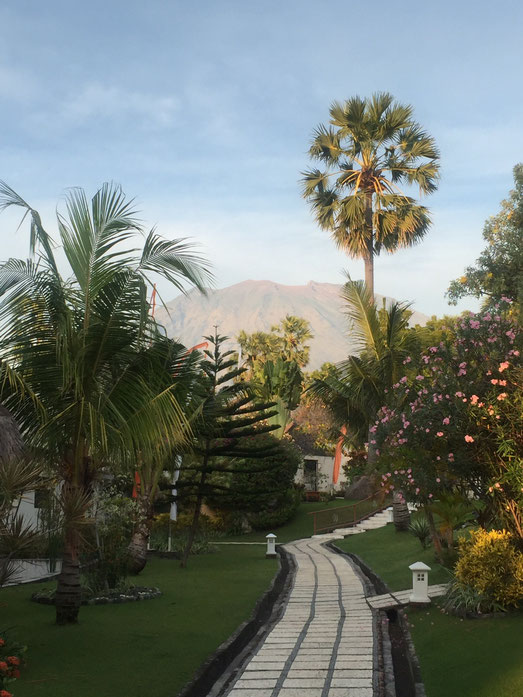 Following a very hearty welcome from its reception staff and manager Barbara, I was taken to my bungalow. I think I can safely say that I have never stayed in more luxurious digs on a diving vacation. This bungalow, and its bathroom in particular, simply took my breath away:
Yvonne and Lutz head the Siddhartha's Werner Lau diving centre. Without exaggeration it is the most beautiful I have ever visited. I certainly don't say this to lessen other diving centres. But I was really impressed by its visual attention to detail: eye-catching underwater collages, colourful local handicrafts made of scrap metal and the many comments from guests who dived here before me. This not only brightens up everything, it breathes life into the dive base.
But not only was it visually appealing, the rest also had me convinced I had come to the right place:
Very friendly staff, top-condition equipment for guests travelling without their own diving gear, intense and highly appealing training courses for OWD newbies (yes, I listened and observed), a sense of appreciation for nature and environmental protection: Lutz, Yvonne and their team are very in tune with divers' needs.
The diving centre offers at least two dives a day, with early-morning or night dives as required, as well as daytrips to dive sites that are further away. Trips are organized by bus or boat, depending on the weather. But wherever you go and however you get there: The most you have to do is don a wetsuit and check your nitrox bottles. The crew takes care of the equipment, carrying it onto the boat, bus or to the house reef access – you can just sit back and relax.
One of the world's most renowned diving spots, Tulamben, is right at Siddhartha's doorstep. The world-famous USS Liberty wreck lies at 5 m depth with the deepest part at 33 m. A dive here is always worthwhile, but the site's popularity means that it gets pretty crowded. I therefore recommend the early-morning dive at 6 am, as not many venture into the water at this hour. So being an early bird really pays off.
To lessen the ever-growing mountains of plastic, the diving centre offers bottles for sale with free refills for your entire stay.
A little goodie at the end: Once a week Lutz gives a presentation on underwater flora and fauna. Unfortunately I missed it as it fell on the day of my departure. But anyone who has met Lutz can imagine what an entertaining experience it must be. He also shares his wealth of knowledge of underwater photography and offers special courses. If that isn't an excellent reason to come back, then I don't know …
The Siddhartha has a lot to offer in the line of recreation. Apart from a reading corner and a TV room it has a fitness room a shop/kiosk and of course a gigantic spa area: "The Six Elements". My dive package meant I had a voucher for the spa area. And because they're so good at what they do, I went ahead and splurged on an additional 2 hours of massage as well.
The Siddhartha has another treat in store on the beach: yoga with Trish. Here she gives yoga, meditation and reiki classes as well as acupressure therapy, to help balance body and mind – all to the sound of the waves gently lapping on the shore. Unfortunately, I only met Trish at the end of my first week at Siddhartha and was unable to attend her class due to my already booked dive schedule, but the brochures in my bungalow sounded very promising.
Siddhartha offers daily trips that can be booked either as a package from the folders or individually put together. And they have something for everyone. So, I pulled myself away from the ocean for one day and went on a daytrip across the Island:
The Siddhartha's centrepiece is located on the beach: the infinity pool. You can spend hours here – be it in or lounging around the pool – and just relax. With its large ying/yang symbol at the bottom, I'd say the pool was probably the most photographed part of the whole grounds:
The pool bar is, you guessed it, right next to it. If offers small snacks for when you get peckish and is the place to be during happy hour, sipping on a delicious Cocktail:
Before or after an exhausting day of diving, spa relaxation or daytripping, you can head on over to Siddhartha's restaurant grab a bite to eat:
Breakfast is served as a buffet, the dinner menu changes every three to four days, and if this isn't enough variety you can check out the catch of the day or the daily special:
The first reaction of family or friends who took a look at my holiday snaps from the Siddhartha was usually: "It was really expensive, right?" And I was able to respond, without a doubt in my mind: "No, not at all". However, I do recommend steering clear of large tour operators and pre-packaged offers, as they definitely tend to overcharge singles. But if you book directly through Werner Lau or are lucky enough to bag a trade fair discount, all I can say is: Go ahead and give it a try!
Whenever I get something really good without paying much I'm always afraid there's a catch. When I arrived, for example, I thought that my bungalow wouldn't be half as nice as in the video or Instagram pictures. But the moment I set foot in it, that little doubting voice in my head was immediately silenced and I thought: "Zip it: I deserve this!"
The Siddhartha is simply brilliant and I left with a heavy heart but completely relaxed and rejuvenated. Delicious food, beautiful gardens, luxurious bungalows, deeply relaxing spa treatment, excellent dive sites, but all at down-to-earth prices: Try as I might, I can't think of a single thing to complain about. They cater to their guests' every need.
As I usually see a lot of couples or singles when I go on a diving holiday, I was especially pleased this time to meet a lot of families with children on vacation here and diving as a group. It was truly a rare occurrence and something I was very happy about.
I'm pretty sure the Siddhartha will become something of a "base camp" for all my future trips to Indonesia, with a stop in Bali to kick back and relax for a few days after a tour.
I have also resolved to book Lutz's photography course to improve my underwater pics. That just leaves me with one thing to say: See you again next year, my dears!
Bali: 
E-Mail: Reservation@siddhardtha-bali.com
Due to the Covid-19 pandemic worldwide, Werner Lau decided in August 2020 to stop all activities in Bali. I deeply regret this and I really feel sorry for this decision because I had a wonderful time here. I decided to leave my blog entry on the page like this anyway, because I wrote About my holidays in 2016. But I would like to point out that the diving center is no longer available.