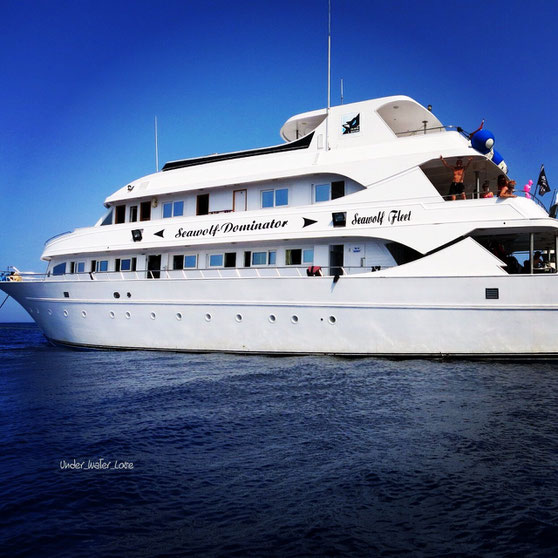 In August 2014 I embarked on my first-ever seven-day diving Safari. I couldn't have wished for a better start to this magnificent adventure: I took to the Red Sea aboard the Seawolf Dominator. The safari was billed as "Sound & Silence", with the sound on board, and the silence under water. Sweltering summer heat, a cool sea breeze, and chilled beats at sunrise and sunset: This would have certainly driven anyone with a dislike of electronic music crazy, but fortunately all of the 24 passengers, DJ's and 16 crew members shared the same taste in this regard.
Built in 2007, the Seawolf Dominator measures approx. 36 m in length and 8.5 m in width. Its four decks can house 22-24 passengers. The upper deck has 3 king size cabins and one suite with two double beds. 8 cabins, each with 2 beds, are located on the lower deck. Meals are served on the upper deck and the topmost sundeck offers space for sunbathing. Nitrox and WIFI are complementary. The Seawolf Dominator uses the Enos system to ensure diver safety.
Daily life was pretty monotonous: dive, eat, doze off to chilled beats in the sunshine, dive, eat, hang out with the other passengers, snack, dive again, beats and an deco-beer, supper and then hit the dancefloor under the stars. Sunshine galore every day, starry skies at night, we even saw the ISS on the horizon, it was that clear.
Back from a dive we were greeted by a smiling crew, a warm bathrobe and a refreshing drink. All we had to do was to peel ourselves out of our wetsuits.
The crew took care of the rest. The food was world class. Whether it was fresh fruit, an entire turkey or a large freshly caught fish, omelette for breakfast, pasta, salads, birthday cakes – you name it they had it.
The Zodiac steered us safely to the reefs and back home again. And they even did a Zodiac photo tour around the Seawolf Dominator without so much as a grumble. The rooms were always clean and tidy. It was worth every cent in tips!
Underwater there was the same monotony as above: a steady stream of manta rays and hammerhead sharks, the occasional napoleon fish, groupers, beautiful steep rock faces, colourful coral gardens, another manta ray and another – a dream in shades of blue.
Over the course of 7 seven days we clocked up a total of 18 dives. I've been on many dives in the Red Sea, but nothing matched the beauty of the deep blue hues way out at the solitary reefs, where the world still seems alright.
At the Daedalus Reef I encountered my first manta and my first hammerhead sharks. I was anxious about coming face to face with a shark for the first time and today I can safely say: It was the most peaceful and serene moment of my entire life. We just couldn't stop smiling.
Highly recommendable!
The tour aboard the Seawolf Dominator was a brilliant experience and a great introduction to the world of liveaboard diving trips. I fell in love with this type of vacation, and can't imagine a better way to spend my holidays.
No matter whether you're travelling alone or with friends, there's always a kindred group spirit and you'll never get a better opportunity to dive at so many reefs in such a short space of time.
Thanks for the wonderful memories.
German magazine "Unterwasser" also featured a vice nice article about this tour in its January/2015 issue.
Sound & Silence Tauchsafari August 2014
Sound_Silence_Safari.pdf
Adobe Acrobat Dokument
1.9 MB