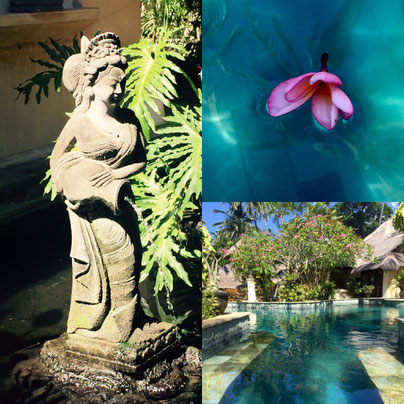 Every year in January I heed the call to the "Boot" trade fair in Düsseldorf, to get some inspiration for my next holiday destination. This is the place to be if you want unbeatable offers and a sheer inexhaustible range of travel packages that are otherwise hard to come by.
Seasoned Exhibition visitors know where to get the best "goodies": The Werner Lau desk calendar is definitely a staple on my desk. This year I was making my way to their stand to pick up "my very own" calendar when I bumped into Barbara…
Her friendly demeanour and amazingly relaxed appearance (Barbara is the manager of Werner Lau's "Siddhartha Ocean Front Resort & Spa" in Bali and came all the way especially for the trade fair) as well as a whopping 30% trade fair discount on their Bali hotels made it easy for me to make up my mind where to go this year:
Bali, here I come!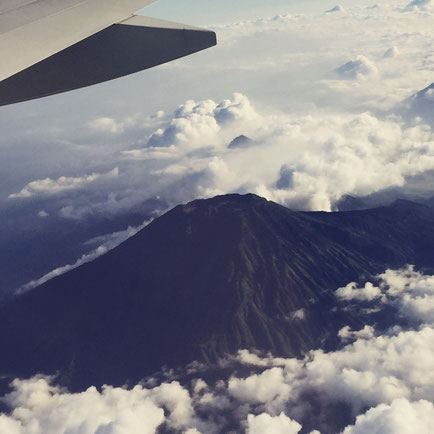 The Alam Anda is located in Singaraja on Bali's north-eastern coast. In a gigantic garden situated right at the beach it has room for 60 guests, with 21 bungalows, two traditional losmen and five villas, all offering wonderful, down-to-earth and comfortable holiday accommodation. Following a 24-hour journey, a very warm welcome by the receptionist and a welcome cocktail from the hotel's own barkeeper I felt the need to hit the sack pretty soon in my sea view Bungalow:
After arriving in the dark the night before, I woke up to this beautiful sight the next morning: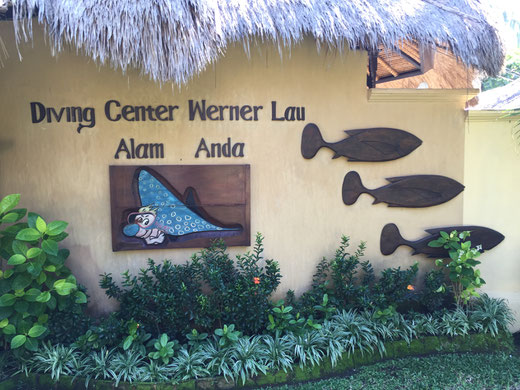 Chris is the head of Werner Lau's dive centre at the Alam Anda (SSI). He and his team do their best to make sure the divers feel at home and safe, both underwater and on land.
A wooden notice board lists the daily local and regional diving trips on offer. It also features transparent price lists for diving packages and additional charges for excursions, so you can avoid unpleasant surprises at the end of your vacation.
A cosy sitting area, books, magazines and free mineral water: This is where your diving holiday begins and almost everything is taken care of. The staff carry, clean and dry the equipment. The most challenging task is to slip into your wetsuit and check your nitrox tanks.
Anyone travelling without their own kit can borrow diving equipment that is state of the art and in great condition.
Unfortunately I had a cold and was not able to take full advantage of my pre-booked diving package, which is luckily no problem with Werner Lau: I was immediately reimbursed for the costs and I only paid for what I actually dived.
Anyone who needs a break from diving should definitely check out the Alam Anda's spa area:
(BTW, if you book a diving package in advance (10 dives or more) you get a free spa voucher)
And of course you should venture outside the hotel and explore Bali. Directly next to the reception at the hotel bar there are folders listing tours & trips on offer, which you can leaf through while sipping on a delicious cocktail. The possibilities are endless:
I can safely say that I have never seen a nicer pool than the one at the Alam Anda. A small free-form pool made of natural stone surrounded by the most beautiful plants and trees Bali has to offer:
In Bali "food is a blessing". All across the island (and our hotel was no exception), small sacrifices for the gods are set out on altars and the floor after meals.
And here's what I shared with the gods:
A friend recently said to me: "Everything on your website reads much too positive. Is it all true or are you just sucking up to the tour operators?"
My response: "Why should I? I just seem to be lucky with my choice of destination, and the travel industry seems to understand what we divers want and need when it comes to our favourite pastime."
Which brings me back to my trip and puts a big fat smile on my face: The Alam Anda on Bali is the perfect destination for anyone seeking peace, the ocean and diving experience.
The moment I arrived I was given a warm welcome, my bungalow was larger than my flat, I enjoyed excellent food (without gaining any weight), had residual stress symptoms massaged out of my body, everything is clean and tidy, the garden is beautiful, the flowers smelled amazing, and the ocean is full of surprises both big and small.
An 18 hour flight won't be enough to keep me from coming back here in the future.
Thank you for this wonderful week.
Bali:
e-Mail: Reservation@alam-anda.com
Due to the Covid-19 pandemic worldwide, Werner Lau decided in August 2020 to stop all activities in Bali. I deeply regret this and I really feel sorry for this decision because I had a wonderful time here. I decided to leave my blog entry on the page like this anyway, because I wrote about my holidays in 2016. But I would like to point out that the diving center is no longer available.